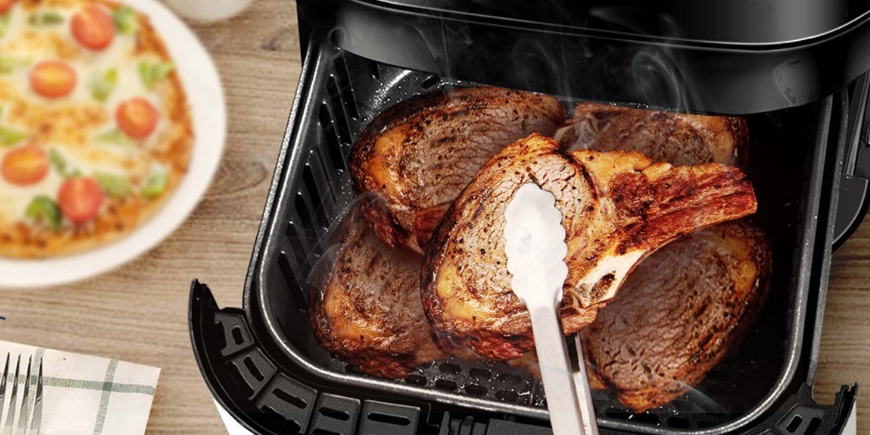 It can be considered a healthier alternative to fried food. Foods obtained with these tools contain lower fat and calories compared to fried ones. They even carry a lower risk of potentially harmful compounds.
Air fryer uses hot air to cook your favorite foods using little or no oil; so you can fry with up to 90% less oil.
In fact, it is a small stovetop oven, but unlike a traditional oven, it is used to cook food without oil or with very little oil, thanks to the strong and even distribution of hot air in the device.
In short, it is about choosing the right tool for the food you will choose. In terms of capacity, since air fryers are less bulky, an oven can be preferred for larger meals, while an air fryer can be preferred for small and practical meals.
Air fryers, which allow to prepare many different dishes such as frying, potatoes, vegetables, snacks, red and white meat, also give great results especially in cooking frozen foods and pastries.
Size and Volume,
Air fryers are designed to fit neatly on your counter, and unless you're cooking in batches, many fryers aren't big enough to cook for a large family. In comparisons, we found that most of them were between 2 and 8.9 liters. Therefore, be sure to check the capacity while evaluating your needs.
Positioning,
Choose well where you will position the air fryer in the kitchen and choose according to the area of your kitchen. The space it takes up on the counter is very valuable. There are loads of over-the-counter devices competing in this regard. If it is going to be a product that you will use all the time, it will be in your best interest to choose a suitable size for this situation, since it will always occupy a place on the counter.
Programming and Cooking Features,
Among air fryers, devices with advanced features make the difference. Therefore, if you are going to use its other features, it is more advantageous for you to buy an air fryer that can cook multiple dishes. Modes such as dehydration, oven, grill, roast and meat cooking combine the functionality of more than five machines in one device.
Inner Chamber Features,
Since air fryers cook by circulating the air that reaches high temperatures, it is important that the air touches all parts of the food. For this, there are a number of mechanisms inside the air fryers that rotate or serve to turn the food upside down. Some air fryers have a rotating function of the inner chambers. Thanks to this feature, while your food is being cooked, the machine will automatically turn the food upside down and ensure that they are cooked evenly.
Electricity Consumption,
Just like ovens, air fryers are appliances that consume some electricity. Before you buy an air fryer, you can both calculate the electricity it consumes and understand what kind of cooking power it has by looking at the watt power it has.
Of course, knowing how to use this device is also very important. Using air fryers like a regular oven or regular fryer will not yield very good results.
Products that are fried by dipping into dough are not very suitable for frying in these devices. Again, you cannot fry dough products such as vegetables and bagels in this machine. This device is designed to make more fried and crunchy foods by circulating air over and between the food.
Do not overfill the air fryer, so the hot air will circulate more easily and your food will brown evenly. If you fill it too much, the food on the top will cook more and you may be faced with an uneven cooking.
Dry the food to remove its wetness before putting it in. You can get a more crispy consistency when the food is placed in a dry state.
Use a little oil when cooking food. Although they have non-stick soles, some oil will prevent sticking.
If your appliance does not have a rotating feature, make sure that your food is cooked evenly by rotating it yourself during cooking.
No, it is not recommended to use baking paper and foil in your air fryer for the following reasons:
If you cover the bottom of the basket, the airflow inside the airfryer is reduced. This will result in reduced cooking performance of your air fryer.
When you put baking paper or foil under the pan where grease and dirt are collected, the air flow will be interrupted and you will not get a good cooking result.
If you put baking paper or aluminum foil in your air fryer without food, the baking paper or aluminum foil may be drawn into the heater and start to burn.
You can use it for defrosting in most air fryers. The air fryer can do much more than just fry your food, thanks to its dual speed fan configuration. It can defrost your frozen foods, dry fruits and ferment vegetables.
If you want to add oil to your food, you must add the oil to the top of the ingredients before you start cooking, not into the air fryer.
The smokeless and odorless part is a bit exaggerated, especially when cooking meat, the smoke and smell are quite common. However, this device does its job very healthy and delicious.
In the air fryer, you can use any oven-proof container or mold made of glass, ceramic, metal or silicone.
The principle of operation is the same as for conventional frying, but the frying liquid has changed: the oil is replaced by hot air. In the small cooking chamber, the food is placed on a basket after it is lightly oiled; this facilitates the even passage of hot air over the entire surface of the food to be cooked.
The bowl and basket of your air fryer are dishwasher safe.