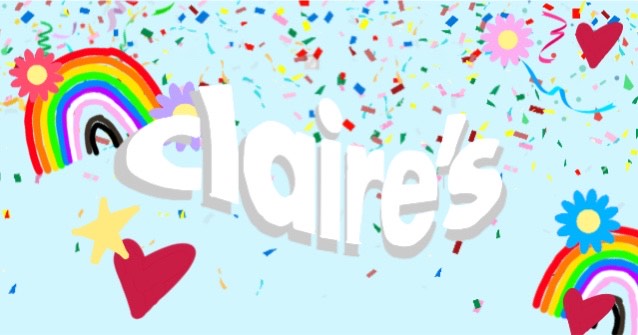 FAQ About

Claire's Piercing FAQ
Lobe piercings start at infants who have had their final immunization shots
Cartilage piercings start at 13 years old
Minors must have a parent/legal guardian over the age of 18 present
A parent or legal guardian must be present of anyone under the age of 18
A parent/legal guardian must be present in person for the piercing, consent cannot be given over the phone and forms cannot be filled out online
A valid form of ID is needed for whoever is signing off on the piercing. This includes:
Drivers License
Passport
Military ID
ID Card
Appointments are not necessary, however you are more than welcome to make one! You can make an appointment via Waitwhile or call us at (304) 255-1330!
At Claire's, we are only able to pierce with the piercing earrings we have in store. Our piercing earrings are completely sterile and are made to be used for ear piercings.
We offer:
Medical Grade Stainless Steel
14K Gold
Titanium
24k Gold Plated
Claire's does not charge a piercing fee. When you get your ears pierced at Claire's you are paying for a starter kit, which includes the earrings and the cleaning solution.
The Beckley Claire's currently only offers ear piercings. However, we offer several styles of ear piercings which you can find here!
To ensure proper healing, always keep your hands clean before touching a new piercing

Clean the front and back of your ears twice a day with the provided Aftercare Solution; while cleaning your ears, twist the earring two to three times

Do not remove of tighten the earring backs

Keep the piercing free from soaps, perfumes, or hair products

Our Rapid Aftercare Solution offers a 3 week heal time for lobe piercing and a 6 week heal time for cartilage piercings
As long as there are two employees present we are able to pierce at the same time! There's not always multiple employees present, so we do recommend calling ahead of time to find out when and if two employees will be available! You can contact us at (304) 255-1330!
While some Claire's locations offer nose piercings, the Beckley Claire's does not currently offer any piercing services aside from ears.
Claire's offers a safe, sterile and easy piercing process. Our employees are trained to make the experience as safe and comfortable as possible. All piercing equipment is sanitized before and after each customer, and piercing earrings are completely sterile.
Our Piercing Specialists can walk you through the entire process, from selecting your earrings, positioning the piercing, and teaching you piercing aftercare!
We use an industry-leading, high-quality system designed to provide a sterile experience. The benefits of our system include:
Fully disposable, single-use, sterilized cartridges for a hygienic piercing
A touch-free piercing instrument that avoids direct contact with your ear
Use of hand pressure for greater control and precision during piercing
Automatic and secure placement of piercing back on the earring post for ultimate comfort after piercing