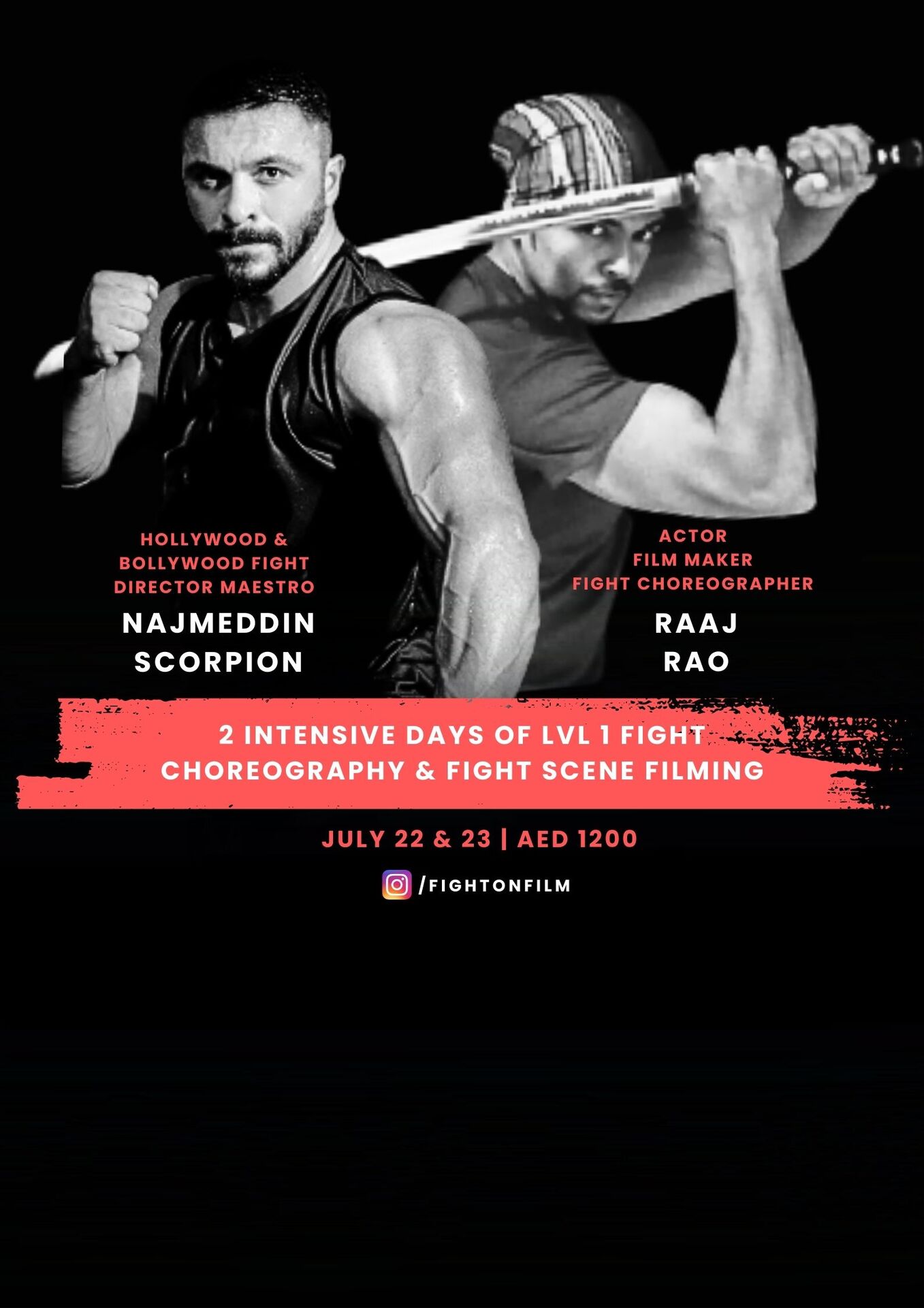 FAQ About

Fight On Film Workshop
Our Fight On Film Introductory Workshop is carefully curated and it's the culmination of 20+ years of rigorous training, learning, countless workshops and film set experience working on over 100+ international films with Hollywood and Bollywood A listers.
It addresses critical aspects of fight scenes, including safety, technique, control, artistic execution, stunt coordinating and stunt directing, to name a few.
We've condensed all that into a 2 Day Intensive course to give you an exclusive insight into the industry, learnings and practical knowledge that you will carry for years to come.
The best of martial arts and the best of filmmaking into a power packed weekend!
This course is tailor-made for actors and filmmakers like you, who want to master the art of fight choreography.
For Actors:
Enhance your on-screen presence: By understanding the key elements of selling a punch or a kick, you'll be able to deliver convincing and impactful fight scenes, captivating audiences with your performance.
Ensure safety in action sequences: Learn techniques to make your movements look realistic and powerful without causing harm to your scene partners. This knowledge will allow you to execute fight scenes confidently while maintaining a safe working environment.
For Filmmakers:
Elevate the quality of your productions: Mastering fight choreography is essential for filmmakers who want to create visually stunning and authentic action sequences. Gain insights into the nuances of spatial awareness, distance control, and reaction timing, enabling you to craft breathtaking fight scenes that leave a lasting impression on viewers.
Showcase your skills: By artistically filming your fight scenes, you'll acquire the ability to bring your vision to life on the screen. This course will empower you to create dynamic and visually captivating action sequences, elevating the overall quality of your projects and enhancing your showreel.
Whether you're an actor seeking to excel in action roles or a filmmaker looking to create captivating fight scenes, this course is designed to equip you with the necessary knowledge and skills.
Enroll today and unlock your full potential as an actor or filmmaker in the realm of fight choreography.
No, prior martial arts or film combat experience is not required to attend the Fight On Film Workshop.
While having previous training and experience can be helpful, the aim of the workshop, led by experts Najmeddin Scorpion and Raaj Rao, is to provide instruction to individuals of all skill levels and backgrounds.
These renowned professionals are experts in safety and will ensure that all participants learn how to safely and effectively perform fights on film. Regardless of your prior experience, every student attending the Fight On Film Workshop will receive equal attention and instruction in a safe and controlled environment.
The most important expectation from you is your dedication and commitment to giving your absolute best as you learn the trade secrets from these experienced teachers.
Discover the artistry behind fight scenes and elevate your skills with our course!
While you may already possess a certain level of expertise, these are just some of the topics covered that will deepen your understanding and take your abilities to new heights:
Uncover the key elements of selling a punch or a kick in a fight scene. Learn how to make your movements appear both realistic and impactful without causing any harm to your partner.
Master the art of maintaining spatial awareness and distance control during fight choreography. Understand the importance of precision and positioning to create captivating scenes.
Explore the critical role of reaction and timing in fight choreography. Discover how to craft believable reactions to strikes and impacts, adding authenticity and intensity to your sequences.
At our workshop, you'll not only develop competency in these techniques, but also gain a wealth of knowledge and practical skills.
We go beyond theory, providing hands-on training to enhance your fight scene filming techniques. By the end of the course, you'll have the ability to artistically capture your fight scenes, resulting in a remarkable showreel.
And that's not all – you'll receive a Level 1 Fight On Film Choreography Certification, validating your expertise and opening doors to exciting opportunities in the world of action filmmaking.
Don't miss out on this extraordinary opportunity to refine your craft and unleash your full potential as a fight choreographer.
Enrol now and embark on an exhilarating journey of growth and creativity!
During the workshop, you will have the opportunity to explore a wide range of skills and techniques in the realm of stage and film combat.
Here's a glimpse of what the course entails:
Introduction to Stage and Film Combat: Gain a comprehensive understanding of the foundations and principles of combat techniques used in both stage and film productions.
Combat Training Drills: Practice various combat maneuvers including punches, kicks, reactions, stunt falls, blocking, fillers, and clears to enhance your physicality and coordination.
Stunt Coordination: Learn the art of coordinating stunts effectively, ensuring the safety and precision required for realistic and captivating action sequences.
Understanding Hero vs. Villain Characterization: Explore the nuances of portraying heroic and villainous characters in combat scenes, understanding their motivations and physicality.
Filming and Editing Fight Scenes: Discover the intricacies of capturing and editing fight scenes to create dynamic and visually engaging sequences.
Action Directing: Gain insights into the role of an action director and learn how to effectively communicate your vision to actors and crew members for seamless collaboration.
Please note that the above list provides only a glimpse of the course content and is not exhaustive.
Please check our instagram page @fightonfilm for the latest workshop details!
Najmeddin Scorpion
Professor Najmeddin 'Scorpion' is a world-renowned martial artist, action maestro, and international sensation.
Crowned as a World Champion Martial Artist, he graduated with a PHD in Karate from Tokyo Japan.
Najmeddin's credentials are a testament to a lifetime dedicated to the pursuit of martial mastery. He holds multiple black belts across various disciplines and possesses an innovative style that marries deadly precision with graceful fluidity. His knowledge doesn't merely rest in the realm of modern martial arts; he also delves deep into the roots of ancient combat techniques, bearing an impressive arsenal of weapons expertise that spans from prehistoric times to the contemporary era.
With a potent fusion of old-world wisdom and present-day martial prowess, he catapults action scenes to unprecedented heights of realism, historical accuracy and modern day weaponry.
Over a glittering career spanning many years, Najmeddin has left his indelible mark on global cinema, sharing the stage with cinematic titans like Jackie Chan, Scott Adkins, Zac Efron, Jessica Alba, Shahrukh Khan, Salman Khan, Vidyut Jamwal, Ahmad Sa'aa, Amir Karara, Mohammad Eman, and hundreds more.
His extensive experience traverses Hollywood, Bollywood, the Middle East, and Asia, reflecting his uncanny ability to adapt and thrive in diverse cultural milieus.
Now, Najmeddin is poised to channel this wealth of international experience into his new role in Fight On Film, a branch of Syem Film Solutions.
His world championship-winning martial artistry and action choreography expertise promise to amplify Action Directing for talents in the Middle East, imbuing them with an unmatched level of excitement, authenticity, and global appeal. As we embrace this exhilarating new phase, brace yourself for a cinematic revolution - this is just the beginning, and the best is yet to come.
Raaj Rao
Raaj Rao is a certified and award winning Actor, born and raised in the UAE. He has worked in over a 100 projects in feature/short films and TV commercials.
He's a self taught dancer who was the only one selected to represent UAE in India's Dance India Dance Competition. He's a multi lingual voice over artist having lent his voice for film, radio and television.
Like dance, his love for action began in childhood and since then he formally trained in Karate, Kung fu, Boxing and Krav Maga.
Raaj comfortably moves from being in front of the camera as an actor to being behind it with his directorial mind. He has written, directed and produced several short motivational films which has not only be viewed by millions but also won awards.
He fused his martial arts and filmmaking skills to become a well known fight choreographer for films and acting workshops in the region.