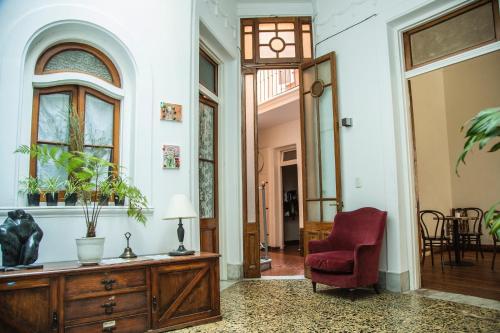 FAQ About

Preguntas Frecuentes Casa Tatú (FAQs)
Para cambiar dinero el lugar más cercano es en Plaza Italia (aprox. 10 minutos de la casa). En Avenida Santa Fe y Jorge Luis Borges hay un cambio con un gran cartel afuera, a la vuelta de este local, sobre Borges, hay otro local sin cartel con mejores tarifas.
Tip: Una tarifa para venta de USD$ es considerada buena cuando se acerca a los valores de dólar blue que se encuentran online.
The closest place to change currency is Plaza Italia (approx. 10 mins from the house). There is an exchange in Av. Santa Fe and Jorge Luis Borges with a big sign outside, just around the corner from this place, on Borges, there is another smaller exchange (without sign) with better rates.
Tip: A rate for selling US dollars is considered good when it nears dollar blue values online.
(ES) Hay más información acerca del transporte público y destinos disponibles en la guía ¨Medios de transporte BA¨ que armamos en Airbnb. Para obtener una tarjeta SUBE (único método de pago para transporte público), debe dirijirse a un Punto SUBE; direcciones disponibles aquí. Esta tarjeta deberá ser cargada en distintas terminales (estación de subte, algunos kioscos y algunas quinielas).
Por preguntas adicionales respecto a la tarjeta SUBE o si precisa que le prestemos una durante su estadía, no dude en contactarnos, estamos para ayudar!
(EN) There is more information on accessibility by public transport to different city sites and must-see locations available on our Airbnb guide titles ¨Medios de transporte BA¨. In order to obtain a SUBE card (used to pay for all public transport), head to one of the SUBE points available here. This card will need to have enough balance before each trip, it can be charged in several places across the city (subway stations, some kioscs and some national lotteries).
If you have any additional inquiries on SUBE cards or will like for us to provide one for you during your stay, please reach out to us, we´re happy to help!
Para pedir comida solemos usar las apps ¨PedidosYa¨ y ¨Rappi¨ o llamar al número del local directamente si no trabajan con apps.
To order food we tend to use ¨PedidosYa¨ and ¨Rappi¨ apps or calling the shop if they don´t work with couriers.
Los siguientes son números útiles para su estadía, le recordamos que Casa Tatú no tiene ningún beneficio al recomendar los siguientes servicios más que proporcionar números útiles y no nos podemos hacer responsables de cualquier falla o demora ocasionado por dichos servicios:
The following are useful numbers for your stay. Just a friendly reminder, Casa Tatú does not obtain benefits from recommending the following services aside from providing them to our guests and we can´t be held accountable for the quality of the service provided by said services:
RadioTaxi ´Premium´- +54 11 5238 0000
Transfer to Airport (Empresa ´Traslados Ezeiza´)- +54 9 11 3621 7823
Galo (Whatsapp)- +549 11 5699 5434
To request cleaning service/ Servicio limpieza (Jazmín Whatsapp)- +549 11 2317 4655
Police- 911
Ambulance- 107
Firefighters/Bomberos- 100
El servicio de limpieza está incluído con su reserva. Si requiere que enviemos al personal de limpieza, por favor especificar los días con antelación para poder organizarnos mejor. Envíenos un mensaje para reservar el servicio a través de Airbnb o por mensaje. Si su reserva es prolongada, solemos hacer limpieza cada cuatro días, consultando primero con nuestros huéspedes.
Cleaning in included with your reservation. If you need to request the service at any time during your stay, please let us know in advance so we can make sure to provide it timely. If you´re staying for a week or more, cleaning is provided every four days (we will be communicating with you to arrange dates and times).
Si, se puede tomar el agua del grifo sin problema aunque puede tener un poco de gusto a cloro. El dispenser de agua en la cocina de arriba tiene agua purificada fría y caliente.
Yes, water from the tap is safe to drink although it may not have the best taste. We provide a water dispenser upstairs with hot/cold purified water for your convenience.