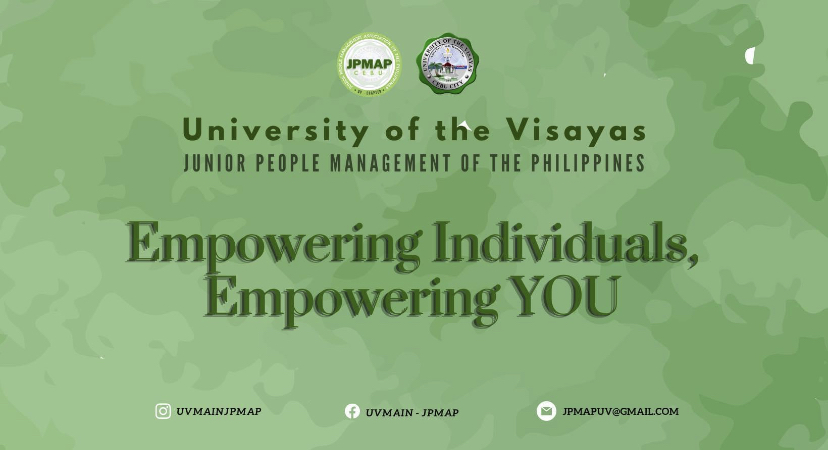 The Junior People Management Association of the Philippines (JPMAP) is committed to empower its young members in becoming future leaders and people managers in modern society. It aims to provide you the tools in honing your potentials and preparing you to enter the corporate world.
UV-JPMAP's envision:
To to be a center for cooperation, collaboration, and exchange of information on HRM matters.
To develop a nucleus of professional HRM practitioners and people managers in various fields of study.
UV main - JPMAP aims:
To serve as a center for cooperation, collaboration, and exchange of information on HRM matters;
Prepare members in developing and attaining professional competence as they enter the business world;
Assist in the development of a strong and effective linkage between the academe and the business world;
Foster the highest standard of personal integrity by adhering to the code of ethics of JPMAP; and
Cultivate among members a strong sense of social responsibility where everyone has equal opportunities to improve his quality of life
Free access to seminars/webinars and learning sessions for the first semester
Snacks and kits provided at every event
Free Certificates for every learning sessions or seminars
Discounts on the JPMAP Activities
Anyone who is a bonafide undergraduate or graduate student in any program in University of the Visayas is welcome to join.
Unfortunately, the answer is no. Since you have already agreed to the terms and conditions from the registration form.
The membership is valid through the whole semester.
You can be updated on the JPMAP events and activities by simply following UV-JPMAP's social media pages. And if you aren't following, then follow us on our official accounts!
FB: https://bit.ly/42TCcCg
Instagram: https://bit.ly/41TqOVF
Email: [email protected]
By joining JPMAP these are the things that you should expect such as:
Free Access To Webinars/seminars And Learning Sessions Facilitated By The Organization
Discounts On The Special Events By JPMAP Cebu Federation
Volunteer Opportunities And Life-Changing Experiences In And Off-campus
Empowers You To Grow From Academic To Professional Level