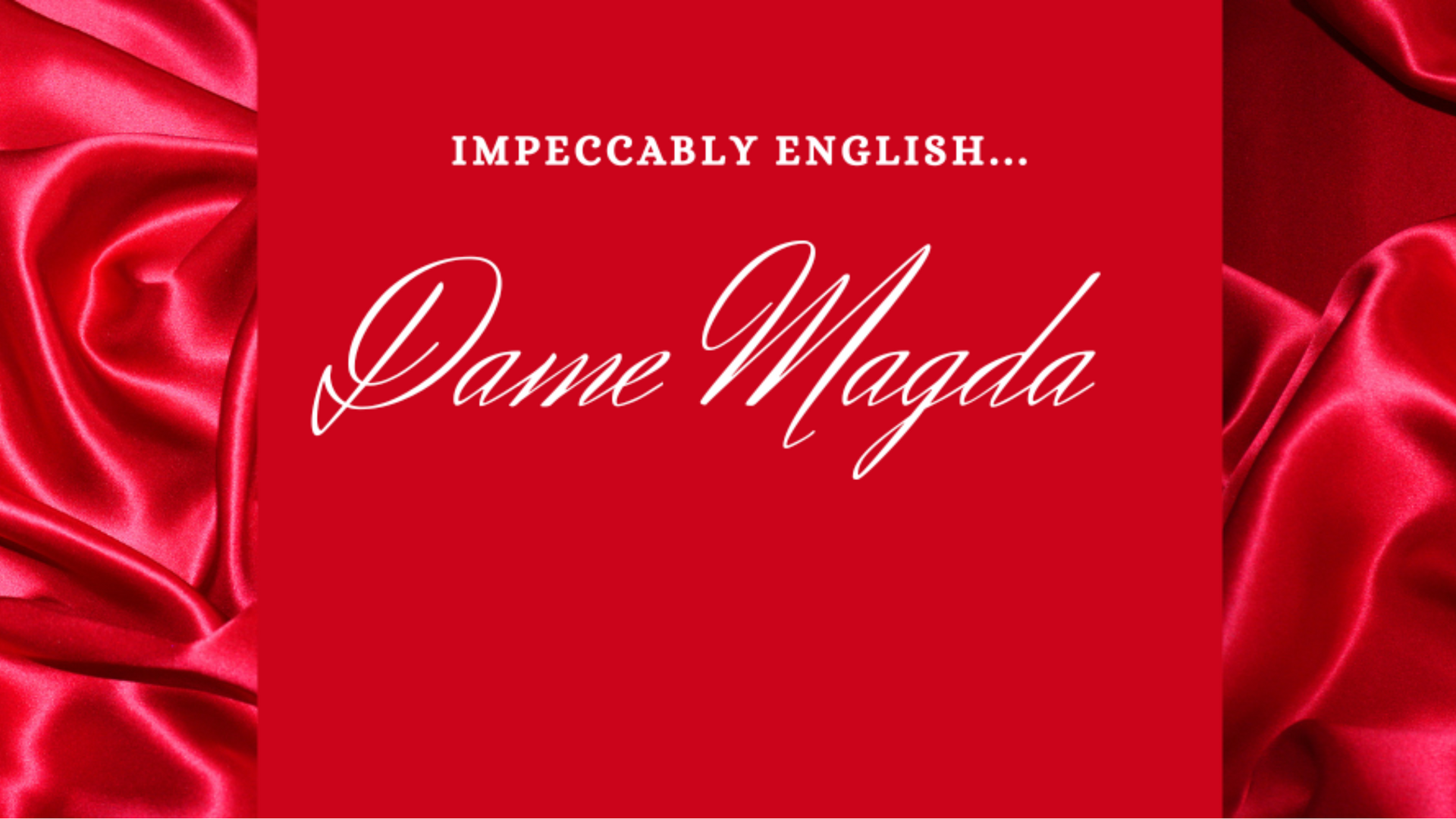 My work is solo audio, with some solo videos. Clips are pay-per-view or subscription, with some bonus free photos and preview clips for you to try before you buy. There are several different kinds of clips to suit different kinks and tastes:
Dame Magda Reads: Saucy, mainly kinky, audio stories, either girl-girl or solo female. There's a new story every month wherever you subscribe to me.
Dame Magda's Hot Minute: 1-3 minute audio ASMR clips to get you hot under the collar quickly. New clips 3-4 times a week.
Dame Magda's Domination: Longer audio femdom fantasies. 10 to 15 minutes each. New clips once or twice a month.
Dame Magda's Dirty Bonus: Solo pleasure videos. Between 5 and 20 minutes each. New clips once or twice a month; strictly subscriber-only.
Clips are available from ___, _____ and ____. From any of these sites, you can also order custom audio or video and choose what you want to hear or see.
I don't do: camming, calls, ratings, clothes-selling, dancing, or any in-person services. Which is in no way a judgement of people who do. I learn a lot from those communities. I just like doing what I do more, and there are fewer people doing it.
I don't show my full face or use my real name to anyone, even to paying subscribers, for all the usual reasons why people don't. If that bothers you, feel free not to subscribe to me, or unsubscribe quietly.
Unfortunately, I don't have time for long chats, paid or otherwise. But if you DM me saying something I find particularly hot and I have a moment, I'll let you know. And if you're really lucky, I might make an audio or video about it…
Short answer: For fun and light relief.
Long answer: Years ago, one of my dearest friends wanted an audience for his unpublished kinky stories. Having been variously told I had a nice/sexy voice, I offered to narrate some for him at the going rate. Sadly, he died tragically before we got around to recording anything. But I kept his stories, and for various reasons have now decided to narrate them off my own bat under my own brand, with a few saucy extras of my own.
Yes and no. I've mixed with all sorts of different people in my life so my 'real' voice slides about.
Yes. Not alluringly. I love most foreign accents.
I prefer dental surgery to being asked that question…
I'm happy to hear from others in this boat and will check out your work if you follow me or send a link. I can't give you detailed feedback. If you're a writer, I'd recommend looking for writers groups or writing coaches who handle erotica, and similarly for video, art or photos. MM do reasonably-priced mentoring and consultations for adult content creators and models.
Potentially yes, one day. At the moment, I'm happy as a one-woman band. If and when I'm looking to work with anyone else, I'll let you know.
Yes. Contact me for rates as per below. Please note, for modelling, I'll appear full face if I'm not referred to as Dame Magda; or you can refer to me as Dame Magda for no-face work, e.g for hand, leg or foot photos.
If you're a pay site customer, please get in touch via that site. Otherwise, use the form on my LinkTree.
Yes, I have a Throne wish list of sexy, pretty things and, if you have serious money to burn, audio-vis equipment. It works discreetly and securely from any country. No obligation, but anything you buy helps keep this going.
^