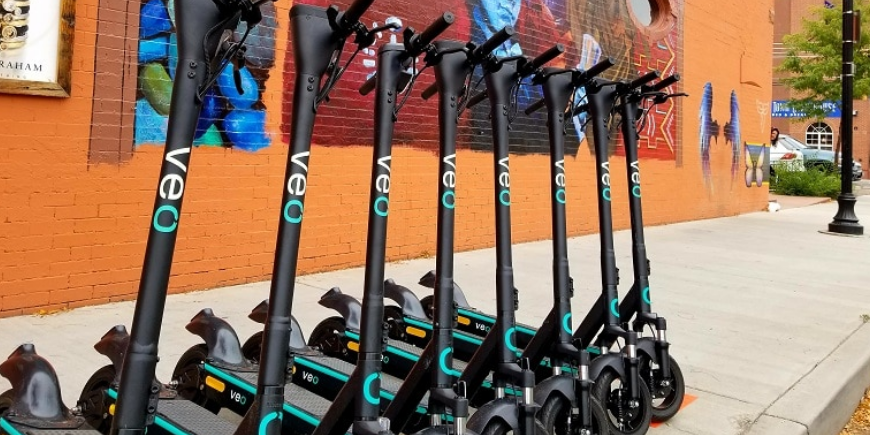 FAQ About

Electric Scooters
The braking system is an essential part of electric scooters. Disc brake system is widely used and this brake control system will keep you safe. Electronic speed and distance indicator, cruise control, LED lighting system, horn, brake light, battery indicator are among the special preferences.
Perhaps one of the most important details is the ability to climb. Today there are scooters that can climb 20 degrees. If you don't get below 15 degrees, you'll save yourself the trouble of carrying your average 13-pound scooter uphill. Unfortunately, there is nothing to do on very steep slopes.
Depends on the brand, model, and weight of the user. Manufacturers around the world produce electric scooters with different technical and physical features for each user over 6 years old. For this reason, you can choose electric scooters without hesitation and confidence.
Electric scooters are very practical thanks to their ergonomic and functional structures using today's high technologies. It is made of aluminum alloy materials and is lightweight. Electric scooters, which are usually made in 1140 x 1080 x 500 mm dimensions and fit in many places, provide great convenience to their users for transportation and storage.
Yes it is safe. Most electric scooters are extremely water resistant; The reason is the use of proprietary waterproof connectors that do not allow moisture to get inside the cables. This is also important for engines. The motor connector on electric scooter conversion kits is waterproof. Therefore, they do not allow moisture from the motor cable to enter the motor. Keep in mind, though, that it's best to keep the bike indoors when not in use. This also doubles the efficiency for battery packs. Battery packs should be stored indoors whenever possible and at room temperature for best results. Cold batteries provide a lower capacity resulting in less range.
The simplest way to determine charge time is to divide the battery capacity (ah) by the charger's amps per hour. For example, it takes approximately 4.5 hours to charge a 9ah (amp hour) battery pack with a 2 amp charger. 9ah / 2amp per hour = 4.5 hour charge time. If the same battery was only 50% discharged and then charged, it would take approximately 2.25 hours to fully charge (4.5ah / 2 = 2.25 hours).
The range of your electric scooter will be determined by several factors. The main factor will be the size of your e-bike battery pack. The size of an electric scooter battery can be similar to the size of a gas tank in a car. In batteries, the size is called "capacity" and is measured in amp-hours (AH). The more amp-hours (or AH) the battery has, the more energy it has in storage and the greater the distance you can expect. Electric scooter batteries are usually sold at 7ah (doesn't go very far), which is available in off-the-shelf bikes. 20ah (you really enjoy a long ride) should be preferred for long ranges. With battery packs over 20ah, you can get an average range of 100km/h. The range you see is determined by the battery and motor combination. Apart from battery capacity, other factors will be rider weight, rider's route (how much you pedal), and road/wind conditions.
Although this situation is different in some countries, in most countries you do not need to have any license to use electric scooters at the moment.
Charge
Among the things that should be considered, the issue of charging takes its place in the first place. Responsibilities such as charging these vehicles, which belong to the person, belong entirely to the person. In addition, the charging time is also a very important detail. When we look at the models on the market, the charging times can vary between 3 hours and 5 hours, although it varies. In some electric scooter models, the charging unit is removable. That means you only have to deal with one part without the hassle of charging the entire scooter. However, you can take a spare battery with you. This can eliminate your risk of being stuck on the road.
Weight
Another thing to consider is weight. If you want to buy an electric scooter, perhaps the most important detail is whether you can carry it comfortably. If you want to buy a scooter to do your daily work, you should choose a model that you can move comfortably during the day and will not force you. In some models, the motor and battery are positioned at the back, while in others, these contents are evenly positioned on the floor. This gives you a more balanced drive while driving the vehicle. The fact that some scooters are foldable offers another plus for the user besides all these helpful features.
Capacity
Some electric scooter models have a carrying capacity of up to 100 kg. If it is used above this weight, a decrease in performance can be seen in the specified models. Accordingly, you should pay attention to the carrying capacity of the electric scooter you want to buy.
Brake
Perhaps the most important and important feature in the city is the braking capacity of your electric scooter. A pedestrian or an animal that may suddenly appear in front of you may cause an accident. In this case, choosing a scooter with good brake grip will help you get through that moment with the least damage.
Climbing Capacity
These electric scooters, which help us in transportation during the day, should not let us down on such roads. When choosing, also pay attention to its strength.
Electric scooter batteries can last for 2-4 years or 3000-9000 km or 300-1000 Cycles (full charge/discharge count) depending on storage, usage conditions, cell charge-discharge number (Cycle Life) and cell model and capacity. If you use your scooter more or store it improperly, your battery life will be shortened.
If you are not going to use it for a long time (more than a few weeks), try to keep the charge level between about 40-60.
Charge with a charging current of 2A or less.
Take care to keep your battery in the ideal operating temperature range(15°C - 35°C).
Here is the list of the best electric scooters as of 2022 when compared by range;
Xiaomi Mi Pro 2(45 km)
Xiaomi Mi 1S(30 km)
CityMate Urban(25 km)
CityMate Plus(23 km)
Mi Essential(20 km)
BOOD Kickscooter(15 km)
^