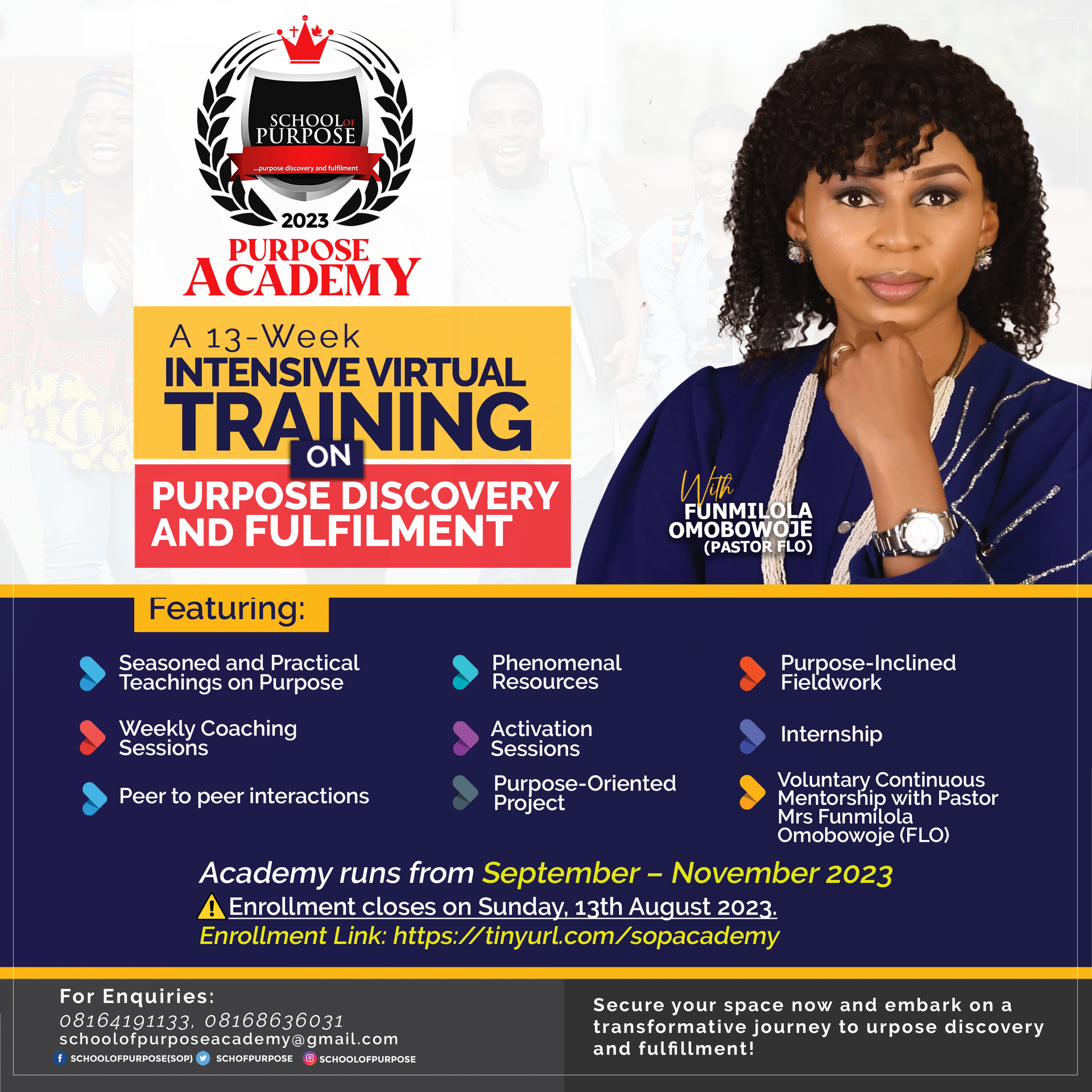 FAQ About

Purpose Academy
Purpose Academy is the destination where profound life questions are answered, empowering YOU to discover your true identity and purpose, and enabling you to becoming the best version of who God made YOU to be
To become a part of the academy, you can enroll through the link https://tinyurl.com/sopacademy and await a notification email if you are shortlisted as a candidate using the email address you registered with
An orientation exercise will be organized for shortlisted candidates. This session will provide detailed information about the academy and its offers
You would be given access to the class after you must have accepted the admission offer after the orientation exercise.
Absolutely! Purpose discovery and fulfillment know no age limit. Junior Academy for children and younger teenagers will commence during the long vacation next year.
Teenagers who are already in higher institution can enroll for the September 2023 Cluster.
We advice teenagers who are still in secondary school to pursue the Junior Academy next year during the long vacation so as to balance it with their school demands i.e Academic Pursuit
The academy is designed to be flexible, enabling participation of all and sundry.
Therefore, all classes will be conducted virtually, removing any location barriers
Classes will be held via a Telegram Group. Additionally, you will need to use the Google Classroom App and Google Slide App for other class engagements, such as assignment submissions and reports.
The academy is free of charge! However, it is important to note that the academy leadership incurs financial commitments for logistics and resources. If you are willing to support the smooth running of the academy, you can contribute by making a payment to
Zenith Bank,
School of Purpose Ministry,
Account Number 1218122977
Dollar : 5072258140
Pounds : 5060559712
Euro : 5080540981
Sort Code : 057170019
Please state "Purpose Academy" as the narration of the transaction.
Certificate of Completion (Soft Copy) would be issued after the program. However there is no graduation in purpose while still alive.
1. Interest and Commitment: Show a genuine interest in discovering your true identity and purpose in life. Demonstrate a commitment to personal growth and transformation.
2. Orientation: Be willing to attend the orientation session to learn more about the academy's objectives.
3. Access to Technology: Ensure you have access to an internet- enabled device, such as a smartphone or laptop, and data as virtual participation will be required.
4.Open- mindedness: Be open to new ideas, perspectives, and self- exploration. A willingness to challenge existing beliefs and attitudes can foster personal growth.
5.English Proficiency: All sessions and resources will be conducted in English, so a basic understanding of the language will be necessary.
6.Time Commitment: Understand and be ready to invest time in attending classes, doing assignments, and other tasks based on the academy's schedule.
7. Respect for Others: Be respectful of fellow participants, facilitators, and the academy's guidelines for interaction and engagement.
8. Financial Commitment : There will be free access to a wide range of valuable resources at no cost, with the exception of 1 or 2 specialized resources which are basic requirements for one of the core courses. Hence, the need to pay a token to access them in bookshops/online stores.
9. Follow Guidelines: Adhere to the academy's rules, guidelines, and code of conduct to create a conducive virtual learning environment for everyone involved.
10. Positive Attitude: Approach the academy with a positive and growth- oriented mindset. Embrace challenges as opportunities for learning and personal development.
By meeting the criteria, you can embark on a transformative journey of purpose discovery, fulfilment and personal development.
Classes will hold on a weekly basis (Saturdays) except the last Saturday of the month because of the In -Person Heaven On Earth: A physical program hosted by School Of Purpose. In this light, classes will also hold on the Thursday preceding each "Last Saturday" of the month.
Saturday classes would hold at 8am, while Thursday classes would hold at 8pm
The academy is a divine vision birthed by God through Pastor Mrs. Funmilola Omobowoje (Flo), the Visionaire of School Of Purpose

Purpose Academy
29 days ago | asked by Eniola Adewoye
The recorded audio will be made available in the classroom after each class.