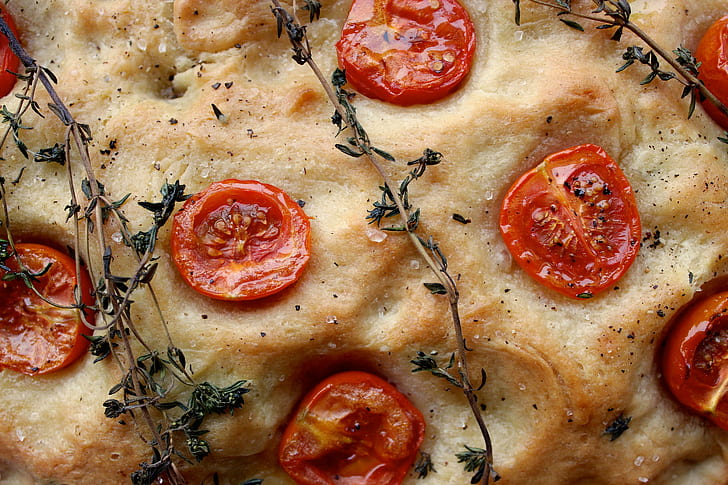 Flour
Yeast
Salt
Olive Oil
Water
You can start by mixing flour, salt and yeast and pouring water on it.
This dough will be very, very wet – almost like cake mix but sticky.
It's very chewy. A good focaccia, should have a crisp, salty crust but slightly chewy texture.
First add some water to the mixture and start to stir. Continue to add water until the dough begins to come together into a shaggy ball. Dump the dough mixture onto a lightly floured surface surface and begin to knead with the heels of your hand. Knead for about 5 minutes, or until the dough is smooth.
It depends on the oven but in general heat the oven 200C/220C.
A good average cooking time of 20 minutes. But after 15 minutes, it is important to turn the baking tray and ensure that all sides are cooked thoroughly. After the remaining 5 minutes, it can be continued by checking time to time. It should be cooked until it turns golden brownon the top. When it turns golden brown, lift it from the corner and see if that the bottom part is also golden brown.
It depends on how you like it! Eat it as a snack, serve it as an appetizer, however you like.
After proper kneading and proving there will be plenty of large bubbles in the dough. If you try and bake the loaf at this point, they will expand and burst, causing the bread to collapse. To avoid this, you need to dimple your loaf with wet fingers or an oiled wooden spoon handle.
If there's too much steam in your oven and your bread doesn't bake for very long, you won't get the level of browning you might want. When you let your dough proof too much, the yeast uses up all the sugars in the flour, so you don't get the dark caramelization on the bread.
An under kneaded dough will have a dough structure that is more brittle. It cannot stretch to trap any of the gas released by the yeast, and thus cannot rise.
The name focaccia derives from the Roman "panis focacius," meaning "hearth bread", referring to the fact that focaccia was traditionally baked in coals in Roman times.